Principles of Drilling Fluid Control, 12th Ed.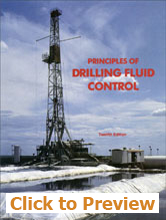 The fluid used in rotary drilling, once regarded only as a means of bringing rock cuttings to the surface, is now recognized as one of the major factors involved in the success or failure of the drilling operation. In addition to lifting the cuttings, the drilling fluid must perform other, equally important functions directed toward the efficient, economical, and safe completion of the drilling operation. As attempts are made to drill deeper and consequently more hazardous wells, and to more fully exploit productive formations, the drilling fluid is expected to have physical and chemical properties that enable it to contend with a greater variety of well conditions.
This helpful training manual is one of the most comprehensive write-ups of drilling fluids and drilling fluid equipment available anywhere. The book covers common drilling mud tests, contamination problems and how to correct them, mud system equipment, lost circulation, and the types of drilling fluid. A helpful feature is the discussion of regional mud programs and drilling problems in the United States, Canada, and other oil-producing countries. Sponsored by the American Petroleum Institute (API) and the International Association of Drilling Contractors (IADC), this edition provides excellent information to drilling crews and well supervisors. ISBN 0-88698-118-2. 1969, 232 pp.
Please note: All online material will be delivered during PETEX regular business hours, 8:00am-5:00pm CST(UTC -6).
| Format | Price | Catalog No. | |
| --- | --- | --- | --- |
| Print | $37.00 | 2.70120 | |
| E-Book | $31.00 | 2.70120E | |
| Printed book & e-Book Bundle | $52.00 | 2.70120B | |