La Barra Maestra (The Drill Stem) 2nd Ed.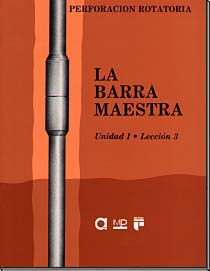 En perforación rotatoria, una cuadrilla hace girar una broca que taladra un agujero en la tierra en busca de petróleo o gas. La cuadrilla une la broca a un tubo hueco que sirve para dos propósitos: proporciona el peso para hacer que la broca penetre en formaciones de la tierra y proporciona una vía para hacer circular el fluido, lodo de perforación, a la broca a medida que gira. A medida que la broca penetra en la tierra, la cuadrilla añade más tubos a los tubos que ya están conectados a la broca. Antes de terminar un pozo, esta columna de perforación puede ser de miles de metros de longitud.
Esta publicación cubre específicamente la flecha kelly, la tubería de perforación, acoplamientos para herramientas, collarines de perforación y otros artículos entre la broca y el torniquete. ISBN 0-88698-031-3. Segunda Ed. 1983.
---
In rotary drilling, a crew rotates a bit that drills a hole through the earth in search of oil or gas. The crew attaches the bit to a hollow length of pipe that serves two purposes: it provides the weight to make the bit dig into the earth's formations, and it provides a passageway to circulate a fluid—drilling mud—to the bit as it rotates. As the crew drills deeper into the earth, crew members add more pipe to the pipe already connected to the bit. Before a well is completed, this drill stem may be thousands of feet long.
This publication specifically covers the kelly, drill pipe, tool joints, drill collars, and other items between the bit and the swivel. ISBN 0-88698-031-3. 2th ed. 1983.
| Format | Price | Catalog No. | |
| --- | --- | --- | --- |
| Print Only | $16.00 | 2.10322 | |