El Malacate (The Hoist), 2nd Ed.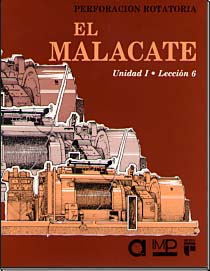 El malacate es una parte del sistema que utilizan las plataformas de perforación rotatoria para izar o levantar la columna de perforación y el revestimiento fuera del pozo. Una transmisión compuesta, envía la potencia de los motores al malacate, la mesa giratoria y las bombas de lodo. Este manual presenta la información pertinente sobre el malacate, incluyendo embragues, transmisiones, ruedas dentadas, tambores y frenos. ISBN 0-88698-034-8. Segunda Ed. 1984. 48 págs.
---
The drawworks is a part of the system that rotary drilling rigs use for hoisting, or lifting, the drill stem and casing out of the hole. A compounding transmission, or compound, sends power from the engines to the drawworks, the rotary table, and the mud pumps. This training manual presents pertinent information on the drawworks, including clutches, transmission, sprockets, drum, and brakes. ISBN 0-88698-034-8. Second Ed. 1984. 48 pp.
| Format | Price | Catalog No. | |
| --- | --- | --- | --- |
| Print Only | $16.00 | 2.10622 | |