Los Bloques y el Cable de Perforación (The Blocks and Drilling Line) 2nd Ed.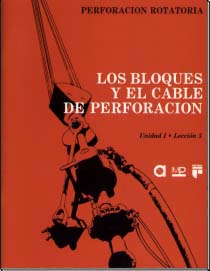 Los caballos de batalla de la plataforma de perforación rotatoria, los bloques, y la línea de perforación son examinados en este libro. Sin este equipo de elevación esencial, no puede haber perforación. El bloque de corona y bloque de viajar están conectados por la línea de perforación, y los tres juntos llevar a cabo la gran cantidad de elevación que la perforación requiere. Juntos podrán suspender todo el conjunto de fondo de pozo, que a menudo pesa varias toneladas. Para los propietarios de equipos de perforación, toolpushers, perforadores, y las manos de plataformas por igual, vale la pena saber lo básico. Este libro trata sobre el manejo y el mantenimiento de la corona y la polea viajera y la línea de perforación. Incluye apéndices que los procedimientos de inspección de la cubierta de los equipos y programas para aumentar la vida de perforación línea de servicio, así como preguntas de repaso y un glosario. ISBN 0-88698-033-X. Segunda Ed. 1982.
---
The workhorses of the rotary drilling rig, the blocks, and drilling line are examined in this book. Without this essential hoisting equipment, there could be no rig. The crown block and traveling block are connected by the drilling line, and all three together carry out the large amount of lifting that drilling requires. Together they may suspend the entire downhole assembly, which often weighs many tons. For rig owners, toolpushers, drillers, and rig hands alike, it pays to know the basics. This book deals with the proper handling and maintenance of the crown and traveling blocks and the drilling line. It includes appendixes that cover inspection procedures for equipment and programs for increasing drilling line service life, as well as review questions and a glossary. ISBN 0-88698-033-X. Second Ed. 1982.
| Format | Price | Catalog No. | |
| --- | --- | --- | --- |
| Print Only | $16.00 | 2.10522 | |