Conceptos Básicos de Perforación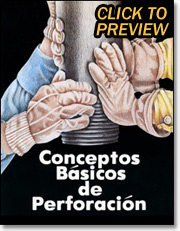 La traducción al español de A Primer of Oilwell Drilling es una guia estandar ilustrada y a todo color, que ofrece al lector una visión general del negocio de la perforación de petróleo; describe las operaciones de perforación a partir de la selección de un sitio de perforación hasta la instalación del árbol de Navidad, explica el trabajo del personal del equipo de perforación, y describe el equipo utilizado en lenguaje claro. También incluye un glosario de términos de perforación. Publicado en colaboración con la Asociación Internacional de Contratistas de Perforación. 135 ilustraciones. ISBN 0-88698-135-2. Cuarto Ed. 1979, 100 pp.
---
This Spanish translation of A Primer of Oilwell Drilling is a full-color, illustrated first reader of the oilwell drilling business; describes drilling operations from selecting a drill site to installing the Christmas tree; explains rig personnel, their jobs, and related equipment in down-to-earth language. A glossary of drilling terms is also included. Published in cooperation with the International Association of Drilling Contractors. 135 illustrations. ISBN 0-88698-135-2. 4th ed., 1979, 100 pp.
Please note: All online material will be delivered during PETEX regular business hours, 8:00am-5:00pm CST(UTC -6).
| Format | Price | Catalog No. | |
| --- | --- | --- | --- |
| Print | $42.00 | 2.00042 | |
| E-Book | $36.00 | 2.00042E | |
| Printed book & e-Book Bundle | $57.00 | 2.00042B | |