El Equipo Auxiliar (The Auxiliaries) 2nd Ed.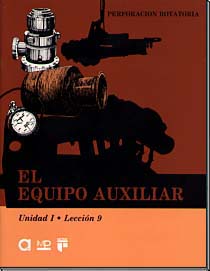 Este manual describe la formación equipo auxiliar para la rotación, elevación, que circula, y el control del pozo, así como la instrumentación, los servicios públicos, y herramientas que se utilizan en el equipo de perforación. Ilustraciones y fotografías ilustran los conceptos y las partes individuales de etiquetas de maquinaria. Los estudiantes se beneficiarán del glosario relacionado y preguntas de repaso. ISBN 0-88698-037-9-2. Segunda Ed. 1983, 60 págs.
---
This training manual describes auxiliary equipment for rotating, hoisting, circulating, and well control, as well as instrumentation, utilities, and tools used on the rig. Artwork and photographs illustrate the concepts and label individual parts of machinery. Students will benefit from the related glossary and review questions. ISBN 0-88698-037-2. Second Ed. 1983, 60 pp.
| Format | Price | Catalog No. | |
| --- | --- | --- | --- |
| Print Only | $16.00 | 2.10922 | |