El Equipo Rotatorio y sus Componentes (The Rotary Rig and Its Components) 3rd Ed.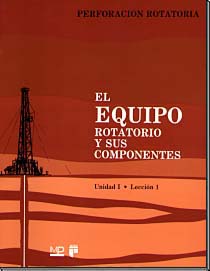 Dado que el petróleo y el gas se encuentran normalmente a mucha profundidad bajo la superficie, se deben usar medios especiales para llegar a ellos y traerlos a la superficie. La perforación a través de quizás miles de metros de tierra, la extracción de la tierra y roca del pozo durante la perforación, mantener el pozo sin derrumbes, encontrar una determinada capa de tierra donde puede haber petróleo o gas atrapado, y proporcionar un medio para sacarlo a la superficie requieren considerable experiencia, trabajo y equipo.
Este manual de capacitación familiariza al lector y nuevo miembro de la tripulación en una plataforma de perforación rotatoria con el equipo y los procedimientos se encuentran como Floorhand, motorhand, derrickhand, y más tarde como un perforador y supervisor de sondeos petroleros. Incluye ilustraciones, preguntas de repaso, un glosario de términos relevantes, y un apéndice con las medidas convertidas en unidades del SI. ISBN 0-88698-029-1. Tercera Ed. 1982, 60 págs.
---
Since oil and gas are normally found far below the surface, special means of reaching them and bringing them to the surface must be used. Drilling through perhaps thousands of feet of earth, removing the dirt and rock from the hole as it is drilled, keeping the hole from caving in as it is drilled, finding a particular layer of earth where oil or gas may be trapped, and providing a means of bringing it to the surface require considerable expertise, labor, and equipment.
This training manual acquaints the reader and new crewmember on a rotary drilling rig with equipment and procedures encountered as a floorhand, motorhand, derrickhand, and later as a driller or toolpusher. Includes illustrations, review questions, a glossary of relevant terms, and an appendix with measurements converted to SI units. ISBN 0-88698-029-1. Third Ed. 1982, 60 pp.
| Format | Price | Catalog No. | |
| --- | --- | --- | --- |
| Print Only | $16.00 | 2.10132 | |