La Mesa Rotatoria, el Cuadrante, y la Unión Giratoria (Rotary, Kelly, and Swivel) 2nd Ed.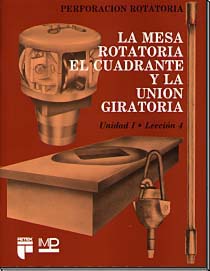 ¿Qué tipo de equipo hace la perforación en una plataforma de perforación rotatoria? Antes de que la perforación rotatoria se convirtiera en el estándar de la industria, las cuadrillas de perforación sujetaban una herramienta filosa a un cable y continuamente dejaban caer la broca en el suelo, aflojando poco a poco la tierra que tenía que extraerse a mano. La perforación rotatoria, con la flecha kelly y mesa giratoria, ha revolucionado la industria y hecho que la operación sea más eficiente. Este manual de capacitación integral presenta datos importantes sobre los componentes rotatorios: rotatoria, mesa giratoria, torniquete, flecha kelly, y herramientas relacionadas, como las cuñas y tenazas. ISBN 0-88698-032-1. Segunda Ed. 1982, 68 págs.
---
What kind of equipment does the actual drilling on a rotary rig? Before rotary drilling became the industry standard, rig crews would attach a sharp tool to a cable and continuously drop the bit onto the ground, gradually gouging out a hole that would have to be cleaned out by hand. Rotary drilling, with the kelly and swivel, has revolutionized the industry and made the operation more efficient. This comprehensive training manual presents important data on the rotating components: rotary, rotary table, swivel, kelly, and related tools such as slips and tongs. ISBN 0-88698-032-1. Second Ed. 1982, 68 pp.
| Format | Price | Catalog No. | |
| --- | --- | --- | --- |
| Print Only | $16 | 2.10422 | |