Motores Diesel y Energía Eléctrica (Diesel Engines and Electric Power), 2nd Ed.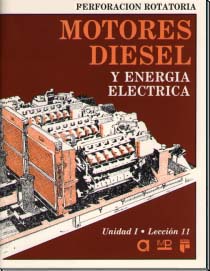 Casi todos los equipos en una plataforma de perforación rotatoria necesitan potencia para hacer su trabajo. Los motores diesel que proveen esta potencia son por lo tanto una parte integral del proceso de perforación que todo miembro de la cuadrilla debe conocer y comprender. Este manual le proporciona al estudiante un conocimiento básico de los motores diesel y la energía eléctrica, como se usa en equipos de perforación rotativos, con especial referencia a las aplicaciones offshore. ISBN 0-88698-039-9. Segunda Ed. 1984.
---
Almost every piece of equipment on a rotary rig needs power to do its job. The diesel engines that provide this power are therefore an integral part of the drilling process that every crew member should know and understand. This training manual gives the learner a basic understanding of diesel engines and electric power as used on rotary drilling rigs, with particular reference to offshore applications. ISBN 0-88698-039-9. Second Ed. 1984.
| Format | Price | Catalog No. | |
| --- | --- | --- | --- |
| Print Only | $16 | 2.11122 | |