Seguridad en la Instalación (Safety on the Rig), 3rd Ed.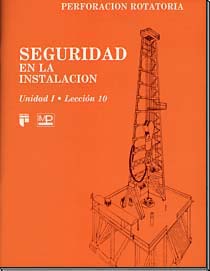 Trabajo en un equipo de perforación es un duro trabajo, peligrosos, donde la seguridad es un tema crítico. La industria de la perforación tiene un mejor registro de seguridad de la construcción, la fabricación o el transporte. Este registro se realiza a través de un riguroso entrenamiento de seguridad de todo el personal en todas las fases de las operaciones de perforación. Este libro orienta al nuevo miembro de la tripulación a la situación de trabajo y de las garantías que se proporcionan para su protección, y señala las responsabilidades de los trabajadores en la prevención de accidentes y lesiones, da algunos procedimientos básicos de primeros auxilios, y presenta una información completa sobre la seguridad de sulfuro de hidrógeno. Lenguaje legible, ilustraciones y fotografías claramente etiquetados, un glosario y las preguntas de repaso de autocomprobación útiles ayudan al lector a comprender el material. ISBN 0-88698-038-0. Tercera Ed. 1981, 94 págs.
---
Working on a drilling rig is a tough, hazardous job where safety is a critical issue. The drilling industry has a better safety record than construction, manufacturing, or transportation. This record is accomplished through rigorous safety training of all personnel in every phase of rig operations. This book orients the new crewmember to the work situation and to the safeguards that are provided for his protection; points out the worker's responsibilities in preventing accidents and injuries; gives some basic first-aid procedures; and presents comprehensive information regarding hydrogen sulfide safety. Readable language, clearly labeled illustrations and photographs, a glossary, and helpful self-test review questions help the reader understand the material. ISBN 0-88698-038-0. Third Ed. 1981, 94 pp.
| Format | Price | Catalog No. | |
| --- | --- | --- | --- |
| Print Only | $16.00 | 2.11032 | |