A Primer of Oilwell Drilling Self-Study Program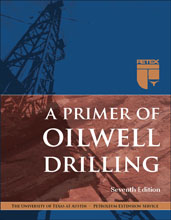 A Primer of Oilwell Drilling remains the go-to guide for rig personnel wishing to gain a better understanding of drilling operations and the oil and gas industry as a whole. Now readers can test their knowledge using an assessment tool aimed at reinforcing material from the book.
The Self-Study Program is designed to teach key terms and concepts that are essential to the oil and gas industry. Topics include cable-tool and rotary drilling, rig types and components, land and offshore drilling operations, well completion, and rig safety.
When you purchase this program, you receive A Primer of Oilwell Drilling(in print or e-book) and the Online Assessment.  If you already own a copy of the book you can purchase the assessment separately. The assessment is made up of 200 questions and takes approximately 4 hours to complete after reading the book. If a passing score of 70% is not achieved, a retake assessment that includes 200 new questions is made available at no additional cost. Successful completion earns a Completion Certificate from The University of Texas at Austin–PETEX and 3.0 CEUs.
For multiple licenses or to use the material in training, please contact us at 800.687.4132 or 512.471.5940 or by sending an email to execed@petex.utexas.edu.
| Catalog # | Access | Format | Price |   |
| --- | --- | --- | --- | --- |
| 2.00070AP | 12 Months | Print Book | $260.00 | |
| 2.00070AE | 12 Months | E-Book | $244.00 | |
| 2.00070A | 12 Months | Assessment Only | $150.00 | |