Introduction to Rotary Drilling Self-Study Program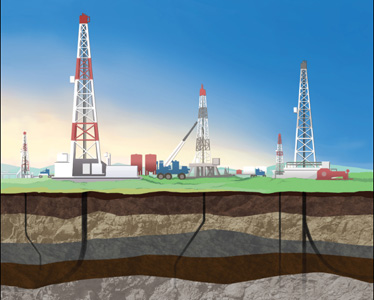 Recommended for all rig personnel, employees of oil companies, drilling crews (both on land and offshore), landmen, and those wanting to learn more about rotary drilling operations.
When you purchase this program, you receive Introduction to Rotary Drilling, 2nd ed (in print or e-book) and the Online Assessment. The open-book assessment is made up of 200 questions and takes approximately 4 hours to complete after reading the book. If a passing score of 70% is not achieved, a retake assessment that includes 200 new questions is made available at no additional cost. Successful completion earns a Completion Certificate from The University of Texas at Austin–PETEX and 3.0 CEUs.
For multiple licenses or to use the material in training, please contact us at 800.687.4132 or 512.471.5940 or by sending an email to info@petex.utexas.edu.
Customers interested in drilling may wish instead to purchase the Drilling Technology Self-Study Program, which comprises three related subjects.
This comprehensive program offers a savings of $39 over purchasing the three components separately, as well as 9 continuing education units (CEUs).
| Catalog # | Access | Format | Price |   |
| --- | --- | --- | --- | --- |
| 2.01120AP | 12 Months | Print Book | $240.00 | |
| 2.01120AE | 12 Months | E-Book | $227.00 | |
| 2.01120A | 12 Months | Assessment Only | $150.00 | |