Introduction to Rotary Drilling, 2nd Ed.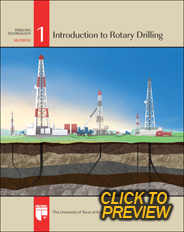 Segment 1, Drilling Technology Series
By Dr. Robello Samuel
The first in a series of three drilling technology books, Introduction to Rotary Drilling, 2nd ed., is the introductory text on rotary drilling. Designed for industry personnel and petroleum technology students involved in rotary drilling operations, the topics cover the origin of petroleum and the fundamentals of rotary drilling. The book provides the essentials and explains the tools, instruments, and equipment required for drilling a well presented in an easy-to-read manner.
This book is a revision of the original edition, which has remained a popular training staple among oil and gas industry participants worldwide for decades. While the basics of drilling are retained, a number of changes have been incorporated to reflect how the industry has evolved. This new edition is vibrant and illustrative, making this a highly useful manual for employees. It can be used standalone or as a foundation for understanding subsequent segments (available separately or as a bundle). Newly updated and colorfully illustrated with special reader features, a glossary, and an index.
2014, 220 pp. ISBN 978-0-88698-259-1.
Earn a Certificate! Learn the basics of petroleum geology and test your knowledge with Introduction to Rotary Drilling Self-Study Program. This includes a copy of the book (in print or e-book) and a 250-question online assessment. Successful completion earns a valuable Completion Certificate from The University of Texas at Austin–PETEX and 3.0 CEUs.
Please note: All online material will be delivered during PETEX regular business hours, 8:00am-5:00pm CST(UTC -6).
| Format | Price | Catalog No. |   |
| --- | --- | --- | --- |
| Print | $90.00 | 2.01120 | |
| E-Book | $77.00 | 2.01120E | |
| Printed book & e-Book Bundle | $105.00 | 2.01120B | |