Routine Drilling Operations, 2nd Ed.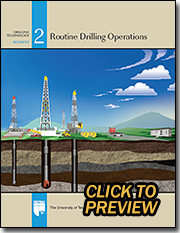 The second in a series of three drilling technology books, Routine Drilling Operations, 2nd ed., explores the construction of standard oilwells and the preliminary work that takes place in the field prior to production. Aimed at industry personnel and petroleum technology students, topics include formation evaluation, drilling requirements, bottomhole assemblies, drilling fluids, casing installation, and cementing operations. The book also examines surface and downhole equipment, fluid-testing tools, best practices for maximizing production, and methods for controlling unwanted deviation.

This book is a revision of the original edition, which has remained a popular training staple among oil and gas industry participants worldwide for decades. While the basics of drilling are retained, a number of changes have been incorporated to reflect how the industry has evolved. The new edition is vibrant and illustrative, making this a highly useful manual for employees. It can be used standalone or paired with segments 1 and 3 of the Drilling Technology Series (available separately or as a bundle). Newly updated and colorfully illustrated with special reader features, a glossary, and an index.
2015, 312 pp. ISBN 978-0-88698-270-6.

Earn a Certificate! Learn the ins and outs of standard drilling practices and test your knowledge with Routine Drilling Operations Self-Study Program. This includes a copy of the book (in print or e-book) and a 250-question online assessment. Successful completion earns a valuable Completion Certificate from The University of Texas at Austin–PETEX and 3.0 CEUs.
Please note: All online material will be delivered during PETEX regular business hours, 8:00am-5:00pm CST(UTC -6).
| Format | Price | Catalog No. |   |
| --- | --- | --- | --- |
| Print | $110.00 | 2.01220 | |
| E-Book | $94.00 | 2.01220E | |
| Printed book & e-Book Bundle | $125.00 | 2.01220B | |