Practical Underbalanced Drilling and Workover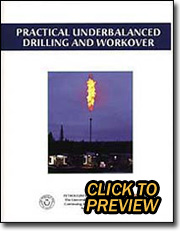 During the past decade, operators have steadily increased the use of underbalanced drilling (UBD) because of its many advantages. Traditional UBD methods included using air to increase the drilling rate, using aerated mud to reduce lost circulation, and using foam to clean sand from wells.
As reservoir pressures decline, underbalanced drilling and workovers become an important reservoir protection procedure. A new wave of technological advances has propelled UBD from its traditional applications to a wider range of situations, which also heightens its value.
This full-color training manual covers underbalanced drilling terms and calculations; UBD guidelines; surface control equipment; downhole tools; gases and equipment; circulation and the fluid column; flow and mud-cap drilling; liquid-gas fluids; foam drilling; air-gas, mist, and foamed mist-drilling; problems; corrosion and scale; rigging up; and flares and flaring. The book also includes an appendix, which is based on the IADC accreditation requirements for underbalanced drilling, as well as a glossary and bibliography.
ISBN 0-88698-198-0. 2002, 204 pp.
Please note: All online material will be delivered during PETEX regular business hours, 8:00am-5:00pm CST(UTC -6).
| Format | Price | Catalog No. | |
| --- | --- | --- | --- |
| Print | $68.00 | 2.60110 | |
| E-Book | $58.00 | 2.60110E | |
| Printed book & e-Book Bundle | $83.00 | 2.60110B | |