Drilling Fluids, Mud Pumps, and Conditioning Equipment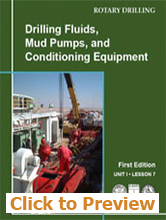 This publication is Lesson 7 of Unit 1 of the Rotary Drilling Series (RDS)
A typical circulating system on a rotary drilling rig includes the fluid that moves (called drilling fluid), equipment to move the fluid, and equipment to clean and condition the fluid. Drilling fluid may be either a liquid, called drilling mud, or a gas. This comprehensive training manual describes drilling fluids and the machinery that circulates the fluid into the wellbore. Topics include drilling fluids, circulating systems, drilling muds, pumps, and other circulating equipment.
Readable language, clearly labeled illustrations and photographs, a glossary, and self-test review questions help the reader to comprehend the material. This lesson combines Mud Pumps and Conditioning Equipment and Circulating Systems.
1998, 252 pp. ISBN 0-88698-181-6.
Please note: All online material will be delivered during PETEX regular business hours, 8:00am-5:00pm CST(UTC -6).
| Format | Price | Catalog No. | |
| --- | --- | --- | --- |
| Print | $47.00 | 2.107101 | |
| E-Book | $40.00 | 2.107101E | |
| Printed book & e-Book Bundle | $62.00 | 2.107101B | |