Drilling Fluids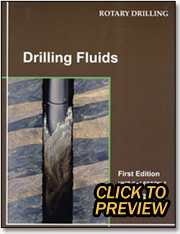 This publication is Lesson 2 of Unit 2 of the Rotary Drilling Series (RDS)
Drilling fluid is vital to the entire rotary drilling process. Indeed, without a circulating drilling fluid, nobody could successfully drill most wells with the rotary method. What's more, the success or failure of the mud program can largely determine whether the drilling contractor can drill the well to the operator's specifications in a safe and economical way. Although a specially trained mud engineer often bears the responsibility of keeping the right fluid, properly treated to obtain maximum results, in the hole at all times, all rig personnel should have a basic understanding of what goes into a mud program.
This easy-to-understand training manual helps rig personnel understand the nature of drilling mud and what goes into a successful mud program. Topics include drilling fluid composition, problems with drilling fluids, and testing and treatment of drilling muds. Clearly labeled illustrations and photographs, a glossary, and helpful self-test review questions help the reader to comprehend the material. Formerly entitled Drilling Muds, this book was rewritten to meet the ever changing nature and usage of drilling fluids.
ISBN 0-88698-189-1. 2000, 212 pp.
Please note: All online material will be delivered during PETEX regular business hours, 8:00am-5:00pm CST(UTC -6).
| Format | Price | Catalog No. | |
| --- | --- | --- | --- |
| Print | $47.00 | 2.202101 | |
| E-Book | $40.00 | 2.202101E | |
| Printed book & e-Book Bundle | $62.00 | 2.202101B | |