Spread Mooring Systems, 2nd Ed.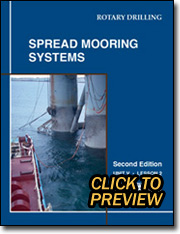 This publication is Lesson 2 of Unit 5 of the Rotary Drilling Series (RDS)
This colorfully updated book discusses the ongoing important role of spread moorings in the offshore drilling industry. With expert input from Christopher Morlan, marine structural engineer with SBM Atlantia's Mobile Offshore Unit, this text explains the main principles of mooring line behavior, anchor holding power, and deployment and retrieval methods. The specific challenges of holding on location and the equipment used to maintain position above the well are described in detail. Readers receive basic historical and operational perspectives with enough technical depth to understand concepts. This lesson is for all offshore personnel and assumes readers are familiar with drilling procedures on land. Detailed descriptions, illustrations, and useful tables help demonstrate concepts. ISBN 978-0-88698-253-9. 2009, 120 pp.
Please note: All online material will be delivered during PETEX regular business hours, 8:00am-5:00pm CST(UTC -6).
Price
Catalog No.
Print
$68
2.50220
E-Book
$58
2.50220
Printed book & e-Book Bundle
$83
2.50220