Diving and Equipment, 3rd Ed.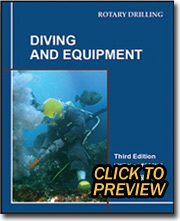 This publication is Lesson 5 of Unit 5 of the Rotary Drilling Series (RDS)
Introduces nondiving personnel to the procedures and equipment used in deepsea diving operations. Updated by diving masters John Herren and Gene Lo Conte from Epic Divers & Marine, this edition provides a visual adventure into the undersea world of the commercial diver who services offshore rigs, platforms, and pipelines. Includes vibrant photos and illustrations, and review questions. ISBN 978-0-88698-238-6. 2010, 160 pp.
Please note: All online material will be delivered during PETEX regular business hours, 8:00am-5:00pm CST(UTC -6).
Price
Catalog No.
Print
$68.00
2.50530
E-Book
$58.00
2.50530E
Printed book & e-Book Bundle
$83.00
2.50530B