Comprehensive Stability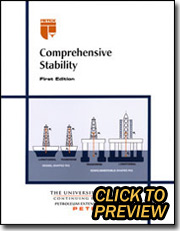 Designed for offshore drilling marine personnel working on jackups, semisubmersibles, and other MODUs. Teaches vessel stability concepts and covers onboard calculations, draft, hydrostatic properties, free surface effect, inclining experiment, center of gravity, center of buoyancy, and metacenter theory. Content meets standards required by IMO resolution A.891(21) of Comprehensive Stability Training.
ISBN 0-88698-214-6. 2005, 152 pp.
This manual only teaches the concepts of stability up to the standards of IMO Resolution A.891(21). For a more in-depth and technical look at the concepts covered in this book, please refer to Advanced Stability.
Please note: All online material will be delivered during PETEX regular business hours, 8:00am-5:00pm CST(UTC -6).
Price
Catalog No.
Print
$68
1.11010
E-Book
$58
1.11010E
Printed book & e-Book Bundle
$83
1.11010B