Offshore Well Construction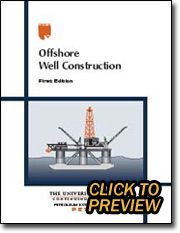 The evaluation and development of oil and gas reserves is a complex process requiring the interaction of numerous different disciplines. Well construction forms a pivotal role in this process as it is responsible for constructing the conduit from the reservoir to the surface.
This comprehensive advanced self-study book is targeted for offshore drilling industry field personnel such as drillers, toolpushers, rig managers, and drilling engineers. It methodically teaches the well design process, casing design, drill string design and bits, drilling and completion fluids, drilling hydraulics, cementing, surveying and directional drilling, formation evaluation, rig equipment sizing, drilling problems, advanced drilling techniques, completion equipment, and other important topics. Readable language and clearly labeled illustrations and photographs help the reader to understand the material. ISBN 0-88698-216-2. 2005, 288 pp.
Please note: All online material will be delivered during PETEX regular business hours, 8:00am-5:00pm CST(UTC -6).
Price
Catalog No.
Print
$68.00
1.13010
E-Book
$58.00
1.13010E
Printed book & e-Book Bundle
$83.00
1.13010B