Practical Well Control, 4th Ed.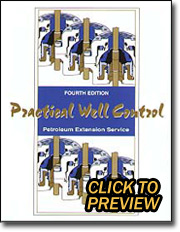 Control of formation pressures encountered while drilling wells is of particular importance in today's oil industry. One indication of its importance is the fact that regulatory bodies in the United States and other countries require that personnel either be trained in well control or be tested to prove their competence. Unquestionably, training plays an important role in successful well control, for a drilling crew that knows and understands the principles and technical procedures of well control is a crew that is less likely to experience a well blowing out of control.
This manual is intended to be a training aid for all personnel who are concerned with well control—rotary helpers, drillers, toolpushers, company representatives, or any whose job takes him or her directly onto a rig location. The book presents a practical approach to well control in that it emphasizes the things a rig crew should know and be able to do to control a well. It is also used as a basic textbook by those who attend well-control courses conducted by many training organization.
This manual supports the International Association of Drilling Contractors (IADC) accreditation requirements. It contains a glossary and appendixes that include hydrogen sulfide procedures, capacity tables, formulas used in well-control calculations, and cross-references to MMS regulations and the WellCAP curriculum. ISBN 0-88698-183-2. 1998, 352 pp.
Please note: All online material will be delivered during PETEX regular business hours, 8:00am-5:00pm CST(UTC -6).
| Format | Price | Catalog No. | |
| --- | --- | --- | --- |
| Print | $75.00 | 2.80040 | |
| E-Book | $64.00 | 2.80040E | |
| Printed book & e-Book Bundle | $90.00 | 2.80040B | |