Artificial Lift, 2nd Ed.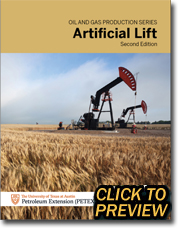 This is part of the Oil and Gas Production Series
Explore artificial lift technology with industry expert Norman W. Hein, Jr. Topics include sucker rod pumping, gas and plunger lift, hydraulic pumping, and electric submersible pumping. To support visual learning, this book includes dozens of color photos and illustrations of equipment and procedures. Includes 50 review questions plus an index and glossary for quick referencing. Learn to optimize oil and gas production today! ISBN: 978-0-88698-236-2 2016, 137pp.
Please note: All online material will be delivered during PETEX regular business hours, 8:00am-5:00pm CST(UTC -6).
| Format | Price | Catalog No. | |
| --- | --- | --- | --- |
| Print | $68.00 | 3.31220 | |
| E-Book | $58.00 | 3.31220E | |
| Printed book & e-Book Bundle | $83.00 | 3.31220B | |