Field Handling of Natural Gas, 4th Ed.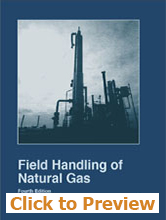 It is hard to believe that natural gas was once regarded as a troublesome by-product of crude oil production when one considers how depended upon it we are today. Indeed, natural gas has come of age and everyone associated with it should know how to to handle it safely and efficiently. This comprehensive training manual reviews hydrocarbon gases and how to handle, produce, and measure them. Chapters cover natural gas production, natural gas and liquid separation, hydrates, dehydration of natural gas, miscellaneous gas conditioning, compressors and prime movers, instruments and controls, and measurement of natural gas and gas liquids. Two appendices—gas facility maintenance and notes on gas processing plants—are included, in addition to a glossary.
ISBN 0-88698-127-1. 1987, 177 pp.
Please Note: This book was published in 1987. The e-book is not 508 compliant and does not work with screen reading software.
Workbook
This helpful review workbook is keyed to Field Handling of Natural Gas, 4th ed. The workbook is designed to help the reader comprehend and remember the main points of the textbook. The book is divided into three segments, each of which includes learning objectives and study questions. 1988, 46 pp. ISBN 0-88698-182-4. Click here to learn more
Please note: All online material will be delivered during PETEX regular business hours, 8:00am-5:00pm CST(UTC -6).
| Format | Price | Catalog No. | |
| --- | --- | --- | --- |
| Print | $42.00 | 3.10040 | |
| E-Book | $36.00 | 3.10040E | |
| Printed book & e-Book Bundle | $57.00 | 3.10040B | |