LNG: Basics of Liquefied Natural Gas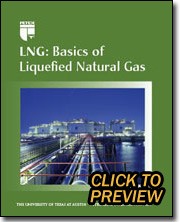 Written by Dr. Stanley Huang, Dr. Chen-Hwa Chiu, and Dr. Doug Elliot
Stranded natural gas converted into liquefied natural gas, transported and re-gasified is playing a more important role in the global energy mix. This full-color training manual covers the entire scope of the industry including the liquefaction process, storage, transportation, and the major equipment used in the manufacture of LNG. Having worked in the LNG industry for many years, Dr. Stanley Huang and Dr. Chen-Hwa Chiu of Chevron Energy Technology and Dr. Doug Elliot of Bechtel Corporation contributed both technical and hands-on experience in writing this book to bridge the gap between public perceptions and industrial realities.
ISBN 0-88698-217.0. 2007, 160 pp.
Please note: All online material will be delivered during PETEX regular business hours, 8:00am-5:00pm CST(UTC -6).
| Format | Price | Catalog No. | |
| --- | --- | --- | --- |
| Print | $100.00 | 3.12010 | |
| E-Book | $85.00 | 3.12010E | |
| Printed book & e-Book Bundle | $115.00 | 3.12010B | |