Beam Pumping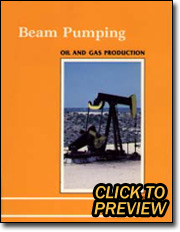 This is part of the Oil and Gas Production Series
This training manual continues where Artificial Lift left off on the subject of beam pumping units and offers information that is more specialized and more comprehensive regarding this type of artificial lift. The book is organized according to the three major areas of concern about beam pumping systems—surface equipment, subsurface equipment, and pumping installation and design. Information that seems most important in each area and thus for presentation to the student has been chosen.
ISBN 0-88698-123-9. 1986, 116 pp.
Note: This e-book is not 508 compliant.
Please note: All online material will be delivered during PETEX regular business hours, 8:00am-5:00pm CST(UTC -6).
| Format | Price | Catalog No. | |
| --- | --- | --- | --- |
| Print | $37.00 | 3.31310 | |
| E-Book | $31.00 | 3.31310E | |
| Printed book & e-Book Bundle | $52.00 | 3.31310B | |