Petroleum Production Operations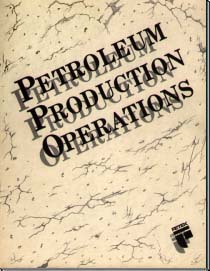 This training manual describes and explains the activities involved in getting petroleum from beneath the ground to the surface. The information that it presents will be readily understandable to those who have been actively involved in the processes of petroleum production on a field supervisory level or those who are taking or have taken courses in general petroleum technology. The book is written for those with technical expertise between novice and professional.
Topics include petroleum reservoirs and drive mechanisms, well completion, well performance evaluation, primary cementing, perforating, squeeze cementing, packer and tubing forces, problem well analysis, workover methods, workover planning, and beam pumping. This book is a must-have for every lease operator or supervisor. Readable language, clearly labeled illustrations and photographs, and a glossary help the reader to understand the material. ISBN 0-88698-124-7. 1986, 172 pp.
| Format | Price | Catalog No. | |
| --- | --- | --- | --- |
| Print Only | $37.00 | 3.90210 | |