Artificial Lift Methods, 2nd Ed.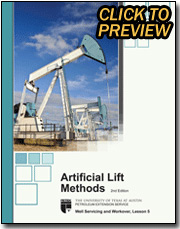 Well Service and Workover Series Lesson 5

By William Lane
Industry expert William Lane of Weatherford International explains how fluids are lifted to the surface through artificial means. Readers are introduced to modern lift hardware and discover techniques for maximizing production. Artificial Lift Methods is especially useful for oil and gas investors, new hires, and anyone interested in learning how artificial lift is helping to address the global demand for hydrocarbon-based energy. Learn what modern lift technologies mean to future generations. Includes 90 full-color images, readability features, review questions, and an index and glossary.
ISBN 978-0-88698-258-4. 2013, 184 pp.
Please note: All online material will be delivered during PETEX regular business hours, 8:00am-5:00pm CST(UTC -6).
| Format | Price | Catalog No. | |
| --- | --- | --- | --- |
| Print | $68.00 | 3.70520 | |
| E-Book | $58.00 | 3.70520E | |
| Printed book & e-Book Bundle | $83.00 | 3.70520B | |