The Bit, 5th Ed.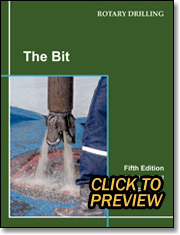 This publication is Lesson 2 of Unit 1 of the Rotary Drilling Series (RDS)
In the latest edition of The Bit, industry expert Mark Jordan of National Oilwell Varco introduces the reader to the different types of bits that are used on rigs to drill for oil and gas. From roller cone to fixed-cutter diamond bits, Jordan explains how these tools are manufactured and provides guidelines for selecting the right bit for an operation. The book explores rock formations, design specifications, cutting structures, drilling fluids, hydraulics, penetration rates, classification, grading, proper maintenance, and causes of bit wear. Field operating procedures and cost effectiveness are also discussed. Includes more than 80 full-color images, readability features, review questions, and an index and glossary. ISBN 978-0-88698-243-0. 2013, 184 pp.
Please note: All online material will be delivered during PETEX regular business hours, 8:00am-5:00pm CST(UTC -6).
| Format | Price | Catalog No. | |
| --- | --- | --- | --- |
| Print | $68.00 | 2.10250 | |
| E-Book | $58.00 | 2.10250E | |
| Printed book & e-Book Bundle | $83.00 | 2.10250B | |