Casing and Cementing, 3rd Ed.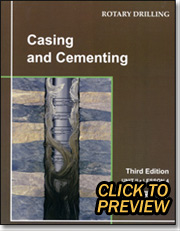 This publication is Lesson 4 of Unit 2 of the Rotary Drilling Series (RDS)
This training manual introduces rig crew members to the concept of casing string design and the procedures for properly handling pipe while it is on the rack, being picked up, made up into a string, and cemented in the hole. The book covers types of pipe usually employed, string design considerations, running techniques, cementing procedures, casing liner use, liner setting, and cement strength determination.
Well-trained crew members are an integral part of making a rotary rig run smoothly. Casing and Cementing offers the training that keeps personnel safe and efficient while working on the rig. The revisions to both the text and the illustrations in this newly updated version are extensive. In addition, the layout has been modernized to make the information easy to digest; and each major section has been summarized to provide a handy comprehension check for the reader.
ISBN 0-88698-191-3. 2001, 122 pp.
Please note: All online material will be delivered during PETEX regular business hours, 8:00am-5:00pm CST(UTC -6).
| Format | Price | Catalog No. | |
| --- | --- | --- | --- |
| Print | $42.00 | 2.20430 | |
| E-Book | $36.00 | 2.20430E | |
| Printed book & e-Book Bundle | $57.00 | 2.20430B | |