Open Hole Fishing, 4th Ed.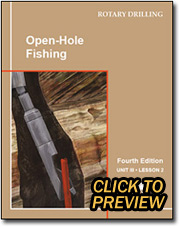 This publication is Lesson 2 of Unit 3 of the Rotary Drilling Series (RDS)
Updated by fishing specialists from Weatherford, this book provides an overview of the tools and techniques of open-hole fishing. With diagrams and color photos, the book describes basic steps in fishing out a twistoff, stuck pipe, wireline, or junk lost in the hole.
Explains the main causes of fishing jobs, provides guidelines for avoiding stuck pipe, and outlines the economics of fishing. Includes glossary and review questions. ISBN 0-88698-241-3. 2010, 112 pp.
Please note: All online material will be delivered during PETEX regular business hours, 8:00am-5:00pm CST(UTC -6).
Price
Catalog No.
Print
$68.00
2.30240
E-Book
$58.00
2.30240E
Printed book & e-Book Bundle
$83.00
2.30240B