Basic Electricity for the Petroleum Industry, 2nd Ed.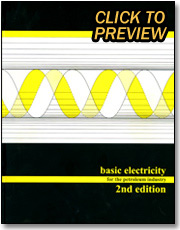 The petroleum industry uses electricity in a number of ways. In lease operation, it is used for a wide range of applications from lighting to powering sophisticated computer production control systems. It is used for corrosion control, oil well pumping, pipeline pumping stations, and for operating equipment in refining plants. This book provides an overview of electricity and its uses in the oil and gas industry. ISBN 0-88698-109-3. 1978, 152 pp.
Topics covered include:
How electricity and circuits work
Generation of electricity
Electric motors
Transformers
Auxiliary equipment for electrical devices
Measurement of electricity
There are review questions at the end of each chapter. An appendix and a glossary add to the usability of the book.
Workbook Available
This companion to Basic Electricity for the Petroleum Industry is designed to help the learner understand and retain the material covered in the book. Learning objectives are stated and comprehensive self-study question cover the main points in each chapter. ISBN 0-88698-136-0. 1981, 48 pp. Click here to learn more.
Please note: All online material will be delivered during PETEX regular business hours, 8:00am-5:00pm CST(UTC -6).
| Format | Price | Catalog No. | |
| --- | --- | --- | --- |
| Print | $37.00 | 1.40020 | |
| E-Book | $31.00 | 1.40020E | |
| Printed book & e-Book Bundle | $52.00 | 1.40020B | |