Land and Leasing, 2nd Ed.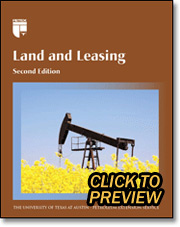 By Dan McCue and Deborah Hubbs
This new edition, authored by two experienced land professionals, takes a basic approach to explaining the legal aspects of using land for mineral production, including ownership, leasing, and agreements for exploration and development. Readers learn about oil and gas leases, government regulations, and cooperative agreements between companies. Land and Leasing is especially useful for landowners, oil and gas investors, oil company employees, land professionals, and anyone interested in becoming a land professional. Appendices offer supplemental information on regional leasing practices and calculating interests.
ISBN 0-88698-263-4. 2013, 224 pp.
Earn a Land and Leasing Certificate! Learn about land management and test your knowledge. Purchase the Land and Leasing Self-Study Program made up of the book with an Online Assessment. This self-study package includes a 250-question open-book test. Successful completion earns a valuable Completion Certificate from The University of Texas at Austin–PETEX and 3.0 CEUs.
Please note: All online material will be delivered during PETEX regular business hours, 8:00am-5:00pm CST(UTC -6).
| Format | Price | Catalog No. |   |
| --- | --- | --- | --- |
| Print | $76.00 | 1.00120 | |
| E-Book | $65.00 | 1.00120E | |
| Printed book & e-Book Bundle | $91.00 | 1.00120B | |