Basic Instrumentation, 4th Ed.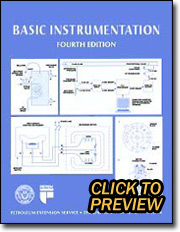 The measurement and control industry has evolved from the use of instruments that produce a visual metering process to one where the measured information is transmitted and processed through electrical signals without any human intervention. This comprehensive training textbook has been prepared to remind us of what was used in earlier times and to acquaint us with new technology now in use in the process industries. A number of components used in instrumentation currently in use may be foreign to some. Effort has been spent to describe the basic functions of these components in laymen's terms and how they are used in instrumentation.
Readers should have a basic knowledge of high school-level algebra, chemistry and physics, some knowledge of electrical basics, and interest or experience in the oil, gas, petrochemical, and related process industries. This book is designed so that some complexity is removed through the omission of some formulas, equations and other highly technical presentations and the inclusion of descriptive language that makes the text more enjoyable and readable. Profusely illustrated and written in an easy-to-understand manner, this book should be a part of every technician's, or would-be technician's, library.
ISBN 0-88698-197-2. 2002. 326 pp.
Please note: All online material will be delivered during PETEX regular business hours, 8:00am-5:00pm CST(UTC -6).
| Format | Price | Catalog No. | |
| --- | --- | --- | --- |
| Print | $84.00 | 1.20040 | |
| E-Book | $71.00 | 1.20040E | |
| Printed book & e-Book Bundle | $99.00 | 1.20040B | |