Changing The Way America Thinks About Energy: A Compendium of Commentary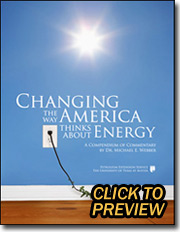 Energy policy expert Dr. Michael E. Webber presents a series of original insights on energy strategy and offers prescriptions for sound, rational energy policy solutions at the state, federal, and international level. In the form of a collection of published articles.
2009, 42 pp. ISBN 0-88698-252-9.
Please note: All online material will be delivered during PETEX regular business hours, 8:00am-5:00pm CST(UTC -6).
| Format | Price | Catalog No. | |
| --- | --- | --- | --- |
| Print | $15.00 | 7.00010 | |
| E-Book | $13.00 | 7.00010E | |
| Printed book & e-Book Bundle | $25.00 | 7.00010B | |