Gas and Liquid Measurement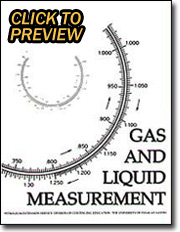 Measurements of natural gas and natural gas liquids made at only a single point can represent hundreds of thousands of dollars per day. These measurements determine royalty, purchase, and sales contracts. They are also used for inventory accounting, process plant balances, loss prevention, and regulatory reporting. From the wellhead to the point of consumption, then, accurate measurement is essential. Care and precision are mandatory. Measurement equipment must be installed and calibrated properly; it must be operated, inspected, and maintained carefully; and measurement results must be processed and accounted for accurately.
This training manual gives a comprehensive overview of the measurement of natural gas and natural gas liquids. Topics covered include fundamentals; head, turbine, orifice, and other meters; auxiliary equipment; mass flow measurement; sampling; operation and inspection of measurement equipment; gas sales contracts; and unaccounted-for gas. Readable language, clearly labeled illustrations and photographs, easy-to-understand formulas, an appendix, and glossary help the reader to comprehend the material. ISBN 0-88698-161-1. 1993, 184 pp.
Please note: All online material will be delivered during PETEX regular business hours, 8:00am-5:00pm CST(UTC -6).
| Format | Price | Catalog No. | |
| --- | --- | --- | --- |
| Print | $63.00 | 8.20110 | |
| E-Book | $54.00 | 8.20110E | |
| Printed book & e-Book Bundle | $78.00 | 8.20110B | |