Acoustic Fluid Level Measurements in Oil and Gas Handbook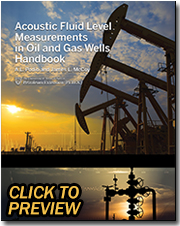 A comprehensive technical handbook that discusses the importance, application, and interpretation of acoustic fluid level measurements for all types of wells and measurement instrumentation, ranging from strip charts to digital sensors. Using extensive graphics, numerous example records and reports, and mathematical equations for sound waves, ideal gas properties, and gas or liquid flow rate, authors Dr. A.L. Podio and Jim McCoy describe a versatile, accurate, and cost-effective means of assessing and optimizing well performance and production. Also includes a discussion on equipment, best practices, and procedures for acquiring acoustic fluid level records in wells. Contains a detailed glossary and index.ISBN 0-88698-279-0 2017, 372 pp.
Please note: All online material will be delivered during PETEX regular business hours, 8:00am-5:00pm CST(UTC -6).
| Format | Price | Catalog No. | |
| --- | --- | --- | --- |
| Print | $120.00 | 3.14010 | |
| E-Book | $102.00 | 3.14010E | |
| Printed book & e-Book Bundle | $135.00 | 3.14010B | |