Petroleum Geology and Reservoirs, 3rd Ed.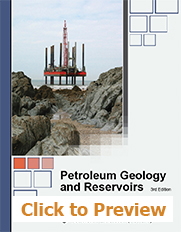 This is part of the Well Servicing and Workover Series
Discover how geologists help companies find oil and gas deep underground and construct wells to bring hydrocarbons to the surface. This book covers the basics of petroleum geology, subsurface exploration techniques, and production optimization. Includes full-color illustrations, 100 review questions, an index, and a glossary.
ISBN: 978-0-88698-275-1
Number of pages: 272
Date published: 2016
Please note: All online material will be delivered during PETEX regular business hours, 8:00am-5:00pm CST(UTC -6).
| Format | Price | Catalog No. | |
| --- | --- | --- | --- |
| Print | $68.00 | 3.70230 | |
| E-Book | $58.00 | 3.70230E | |
| Printed book & e-Book Bundle | $83.00 | 3.70230B | |