Production Rig Equipment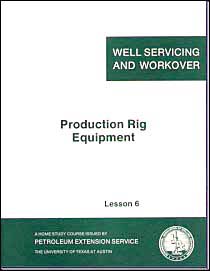 This is part of the Well Service and Workover Series
Well service and workover hoisting units—generally called "production rigs"—have been developed in step with the drilling and completion practices outlined in other lessons in this series. The gradual change from permanent structures over every well, each with its own power plant, hoist, and lifting tackle, to the bare wellheads of today has been an evolutionary process. Wooden derricks have been replaced by steel masts and portable hoists that can be moved from job to job. More powerful engines, improved transmissions, and better brake arrangements have made this equipment as reliable as the modern automobile. Hydraulic power units and other labor-saving tools are employed to reduce the manual effort formerly needed for this work. Specialized rigs have been assembled for marine work.
This training manual covers production rig equipment and the machinery required to repair wells on artificial lift and to recondition oil and gas wells so they can continue to produce. Topics include early types of equipment, truck units, carrier units, transfer method of carrier rods, sucker rod makeup, auxiliary equipment, fluid pump and pits, rig machinery safety, portable mast safety, and carrier rig mast checklist. Readable language, clearly labeled illustrations and photographs, and helpful self-test review questions help the reader to understand the material. ISBN 0-88698-062-3. 1971, 48 pp.
Please note: All online material will be delivered during PETEX regular business hours, 8:00am-5:00pm CST(UTC -6).
| Format | Price | Catalog No. | |
| --- | --- | --- | --- |
| Print Only | $26.00 | 3.70610 | |