Well Service and Workover Profitability, 2nd Ed.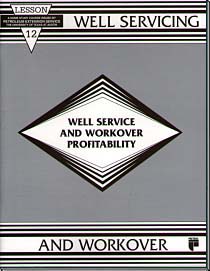 Well Service and Workover Series Lesson 12
For its survival the private enterprise system depends on reasonably accurate accounting of costs and estimates of return on money invested. A certain amount of risk is always present, but this risk can be reduced by applying a meaningful study to a combination of all the factors that enter into accomplishing an objective and producing a profit. This training manual helps operators produce a realistic approach to the economics of well service and workover. Topics include problem wells, problem-well analysis and diagnosis, workover planning, and economic evaluation and justification. Readable language, clearly labeled illustrations and photographs, and helpful self-test review questions help the reader understand the material. ISBN 0-88698-210-3. 1980, 32 pp.
Please note: All online material will be delivered during PETEX regular business hours, 8:00am-5:00pm CST(UTC -6).
| Format | Price | Catalog No. | |
| --- | --- | --- | --- |
| Print Only | $26.00 | 3.71220 | |