H2S Safety Handbook, 2nd ed.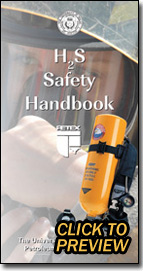 Pocket-sized quick guide to general hydrogen sulfide (H2S) safety procedures. Covers the sources and properties of H2S, its hazards, how to detect the gas, the symptoms of H2S exposure, and procedures for exposed coworkers, as well as types of protection and apparatus to ensure safety.
ISBN 0-88698-224-3. 2008, 24 pp.
Please note: All online material will be delivered during PETEX regular business hours, 8:00am-5:00pm CST(UTC -6).
| Format | Price | Catalog No. | |
| --- | --- | --- | --- |
| Print | $16.00 | 2.73020 | |
| E-Book | $14.00 | 2.73020E | |
| Printed book & e-Book Bundle | $26.00 | 2.73020B | |