The Beam Lift Handbook, Revised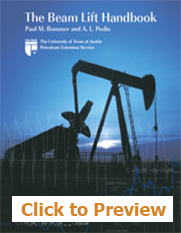 Both a field handbook and a textbook!
Authors Dr. Paul M. Bommer and Dr. A. L. Podio, industry experts and faculty members in the petroleum engineering department at The University of Texas at Austin, have outlined the goals and best practices for production beam lift systems. Using extensive graphics, illustrations, and mathematical equations, this one-of-a-kind recently updated technical manual fully covers the important aspects of beam lift systems and potential complications in daily operations. Includes a detailed glossary and index. ISBN 978-0-88698-257-7 2015, 624 pp.
"Simply stated, this text contains between two covers more information about beam pumping than any other publication known to this reviewer." – Review by Dr. S.G. Gibbs.
Click Here to Access The Beam Lift Toolbox.
Please note: All online material will be delivered during PETEX regular business hours, 8:00am-5:00pm
| Format | Price | Catalog No. | |
| --- | --- | --- | --- |
| Print | $120.00 | 3.130101 | |
| E-Book | $102.00 | 3.130101E | |
| Printed book & e-Book Bundle | $135.00 | 3.130101B | |