Making Hole, 3rd Ed., Revised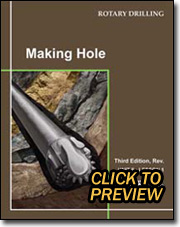 This publication is Lesson 1 of Unit 2 of the Rotary Drilling Series (RDS)
Drilling an oil or gas well, or "making hole," as people in the oil industry sometimes refer to it, is a complicated operation. Drilling situations vary a great deal throughout the world. Consequently, it is difficult to explain the fine points of field geology, engineering, technology, and economics that apply to every well. Moreover, in spite of great advances in drilling technology, as much art as science is sometimes involved in drilling a well. For a particular well, even experienced drillers and engineers may not agree on the right way to make hole. Nevertheless, basic principles apply to all wells and this book emphasizes these factors.
Newly revised with full-color images and special features, this book discusses the well planning, bit selection, and bit application in fundamental terms. Covers bit wear, damage, and replacement and the effects of rotary speed. Additional focus is on drilling fluid use, bit hydraulics, and formation properties, demonstrating the importance of maintaining bit performance and functionality. Includes vibrant illustrations, callouts and summaries, review questions, glossary, and index.
ISBN 0-88698-190-5. 2013, 160 pp.
Please note: All online material will be delivered during PETEX regular business hours, 8:00am-5:00pm CST(UTC -6).
| Format | Price | Catalog No. | |
| --- | --- | --- | --- |
| Print | $52.00 | 2.201301 | |
| E-Book | $44.00 | 2.201301E | |
| Printed book & e-Book Bundle | $67.00 | 2.201301B | |