Blowout Prevention, 4th Ed.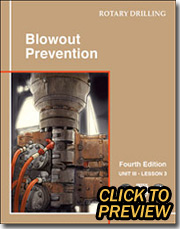 This publication is Lesson 3 of Unit 3 of the Rotary Drilling Series (RDS)
By Timothy Bell, Daniel Eby, Jace Larrison, and Bhavesh Ranka
A team of experts from Cudd Well Control have updated this informative book, complete with full-color graphics and the latest prevention practices. This edition focuses on the most important single consideration for crew members on a drilling rig—blowout prevention for both offshore and onshore environments. Readers will learn about the special equipment and definitive steps for detecting and controlling kicks, along with proper safety measures. A glossary and review questions help readers check comprehension.
ISBN 0-88698-242-1. 2009, 224 pp.
Please note: All online material will be delivered during PETEX regular business hours, 8:00am-5:00pm CST(UTC -6).
Price
Catalog No.
Print
$68.00
2.30340
E-Book
$58.00
2.30340E
Printed book & e-Book Bundle
$83.00
2.30340B