Jacking Systems and Rig Moving Procedures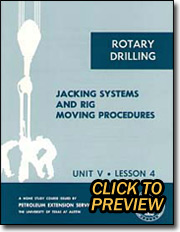 This publication is Lesson 4 of Unit 5 of the Rotary Drilling Series (RDS)
The growth of the rig jacking system developed largely because of economic reasons. Offshore contractors realized that construction costs for a jacking system in 40 feet of water or deeper was considerably less than buying a submersible hull. Because both systems are bottom supported, drilling procedures for the two are similar, thus facilitating the transition from submersibles to jackups for crews experienced in offshore exploration.
This training manual provides an introduction to the different types of self-elevating offshore rigs, how they are operated, and how they are transported. Topics include independent-leg and mat-type drilling units and an overview of moving and jacking procedures. Readable language, clearly labeled illustrations and photographs, and a glossary help the reader to comprehend the material. ISBN 0-88698-072-0. 1976, 43 pp.
Please note: All online material will be delivered during PETEX regular business hours, 8:00am-5:00pm CST(UTC -6).
Price
Catalog No.
Print
$32.00
2.50410
E-Book
$27.00
2.50410E
Printed book & e-Book Bundle
$47.00
2.50410B