Orientation for Offshore Crane Operations, 2nd Ed.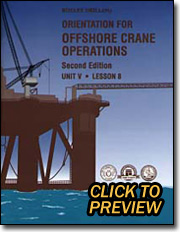 This publication is Lesson 8 of Unit 5 of the Rotary Drilling Series (RDS)
Pedestal cranes are a familiar sight on offshore rigs in Southeast Asia, Africa, and the world. Cranes enable personnel and equipment to reach the offshore installations so that exploration and production of oil and continue. Lifting and hoisting are main functions of the crane, and require the utmost care and attention to preserve the safety of the rig and its crew. This expanded edition of the textbook Orientation for Offshore Crane Operations, in a completely redesigned, easier-to-read format, acquaints offshore personnel with parts and functions of pedestal cranes, including prime movers and transmissions. The book discusses wire rope and slings and safe load rigging and handling; also covers safe hoisting procedures and hand signals. Readable language, clearly labeled illustrations and photographs, a glossary, and helpful review questions aid the reader in comprehending the material.
ISBN 0-88698-179-4. 1997, 84 pp.
Please note: All online material will be delivered during PETEX regular business hours, 8:00am-5:00pm CST(UTC -6).
Price
Catalog No.
Print
$42.00
2.50820
E-Book
$36.00
2.50820E
Printed book & e-Book Bundle
$57.00
2.50820B