Reciprocating Gas Compressors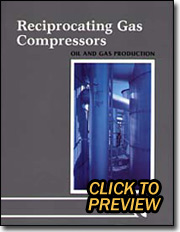 This is part of the Oil and Gas Production Series
Many oil field lease operators are responsible for operation and maintenance of reciprocating gas compressors. Recently, it has become increasingly evident that downtime for a gas compressor is extremely expensive and that adequately trained operating personnel can do much to prevent downtime.
This comprehensive training manual gives basic information on compressor systems, prime movers, and safety and auxiliary equipment. The book includes calculations for determining piston displacement, compression ratio, clearance volume, volumetric efficiency, horsepower requirements, cylinder capacity, rod load, and discharge temperature. Readable language, clearly labeled illustrations and photographs, a glossary, and self-test review questions help the reader to comprehend the material. ISBN 0-88698-119-0. 1982, 116 pp.
Note: This e-book is not 508 compliant.
Please note: All online material will be delivered during PETEX regular business hours, 8:00am-5:00pm CST(UTC -6).
| Format | Price | Catalog No. | |
| --- | --- | --- | --- |
| Print | $37.00 | 3.30210 | |
| E-Book | $31.00 | 3.30210E | |
| Printed book & e-Book Bundle | $52.00 | 3.30210B | |