Oil and Gas: The Production Story, 2nd Ed.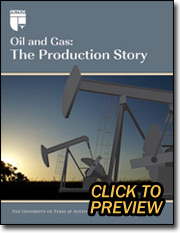 This is part of the Oil and Gas Production Series
Tells the complete story of oil and gas from origin through production and distribution. Covers geology, exploration, drill-ing, reservoir drive mechanisms, artificial lift, testing, measurement, storage, and sale. Serves as a solid introduction to the Oil and Gas Production Series. Also includes An Oil Lease and Its Components poster. ISBN 978-0-88698-225-6. 2008, 120 color illustrations, 150 pp.
Please note: All online material will be delivered during PETEX regular business hours, 8:00am-5:00pm CST(UTC -6).
| Format | Price | Catalog No. | |
| --- | --- | --- | --- |
| Print | $80.00 | 3.90020 | |
| E-Book | $68.00 | 3.90020E | |
| Printed book & e-Book Bundle | $95.00 | 3.90020B | |