A Primer of Oil and Gas Measurement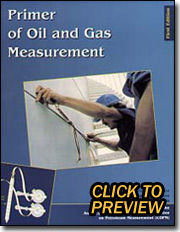 This training manual introduces inexperienced personnel to the basic procedures, standards, and instruments used to measure oil and gas. It is intended as a primer for both those who measure oil and gas and those who witness measurement procedures. It can be used as an introduction for people new to the industry or as a reference for those knowledgeable about other areas of the industry but unfamiliar with measurement procedures and practices.
Topics include:
Tank measurement
Gauging petroleum and petroleum product heights in stationary tanks
Measuring the temperature, density, and suspended S&W content of liquids in tanks
Manual sampling of petroleum and petroleum products
Automatic sampling of petroleum and petroleum products
An introduction to LACT systems
Meters and meter proving
Orifice meter installations
This book is produced in cooperation with the API.
ISBN 0-88698-160-0. 1993, 184 pp.
Workbook
This companion workbook to The Primer of Oil and Gas Measurement includes eight lessons that correspond to the eight chapters in the book. Each lesson includes a summary of the chapter in the book, a vocabulary list, and a set of questions. These lessons can be used to reinforce the information presented in the book or as a pre- and/or post-test for each chapter. Answer sheets are included in the workbook, but can be deleted if the lessons are used as test material.
ISBN 0-88698-173-5. 1993, 62 pp.
Click here for more information
Please note: All online material will be delivered during PETEX regular business hours, 8:00am-5:00pm CST(UTC -6).
| Format | Price | Catalog No. | |
| --- | --- | --- | --- |
| Print | $53.00 | 8.20010 | |
| E-Book | $45.00 | 8.20010E | |
| Printed book & e-Book Bundle | $68.00 | 8.20010B | |