Controlled Directional Drilling, 4th Ed.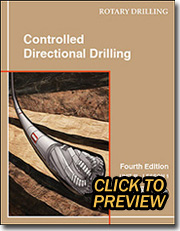 This publication is Lesson 1 of Unit 3 of the Rotary Drilling Series (RDS)
By João Luiz Vieira
This book introduces the science of deviating a well along a planned course to workers who are already familiar with basic drilling practices and terms. Directional drilling expert João Luiz Vieira of Halliburton shares current information about the types of directional holes, how a well is planned, the equipment and data needed, and some of the special applications and challenges associated with controlled directional drilling. Updated text, colorful new graphics, and a self-test help readers comprehend this increasingly relevant topic.
ISBN 0-88698-254-5. 2009, 152 pp.
Please note: All online material will be delivered during PETEX regular business hours, 8:00am-5:00pm CST(UTC -6).
Price
Catalog No.
Print
$68.00
2.30140
E-Book
$58.00
2.30140E
Printed book & e-Book Bundle
$83.00
2.30140B